Environmental Conservation
We are engaging in a range of environmental preservation activities for the protection of our planet and the sake of future generations, such as leveraging environmental management practices and ICT to contribute to fight against global warming.
Identifying the risks and opportunities in resource
conservation and biodiversity conservation
Regarding the risks and opportunities involved in resource conservation and biodiversity conservation, selections are made in the Environment Committee for regular evaluation and analysis by the officer in charge. Furthermore, issues with a high degree of importance are discussed by the Board of Directors after consulting with the SDGs Promotion Committee.
Item
Risk (SoftBank)
Risk (Supply chain)
Opportunity
Resource

Customer loss due to reputational risk if the initiative is insufficient
Financial impact due to strengthening of legal regulations

Supply shortfalls due to rare metal depletion, cost increases
Brand enhancement through the promotion of 3R initiatives
Biodiversity
Supply chain instability due to legal regulations and lawsuits, etc.
Brand enhancement through the encouragement of donations and information dissemination using IT tools
Protecting the marine environment
through activities to conserve coral
As part of our environmental conservation efforts which include measures to combat global warming and ecosystem maintenance, we launched the "Future and Coral Project" in July 2019 together with Onna Village in Okinawa Prefecture and many companies and organizations to plant coral and actively conserve the environment.
In order to protect the corals and maintain the future ecosystem of the planet, this project collects donations and purchases coral seedlings with such funds, arranges volunteer tours to plant those seedlings and activities to clean up nearby beaches, and disseminates information about coral growth, cooperating companies, and the activities of the organization.
Reducing greenhouse
gas emissions
A range of energy saving measures such as controlled lighting levels and optimized air conditioning timing in accordance with the Act on the Rational Use of Energy (Energy Saving Act) and the Tokyo Metropolitan Environmental Preservation Ordinance are being implemented at the building where SoftBank Corp. headquarters and many SoftBank Group companies are located.
In addition, at its headquarters and network and data centers, SoftBank has received ISO14001, an international certification for environmental management systems, and is actively working to reduce its electricity consumption. We optimize temperature settings of air conditioners at base stations and network centers to enable normal operation of equipment, proactively use equipment that is best-in-class for energy conservation, and promote optimal energy use through the periodic replacement of old or outdated equipment. At data centers in particular, a reduction in energy consumption is being seen through the implementation of heat analysis visualization and localized air conditioning, among other efforts.
Support for COOL CHOICE
SoftBank supports COOL CHOICE, a national campaign conducted by the Ministry of the Environment to mitigate global warming.
COOL CHOICE encourages people to make environmentally conscious choices, such as choosing energy-efficient, low-carbon products, services and activities to achieve the goal of reducing greenhouse gases in fiscal 2030 by 26% compared to fiscal 2013 – the target set by Japan's Global Warming Prevention Headquarters.
To promote and expand the use of renewable energy and mitigate global warming, SoftBank is pursuing initiatives such as the Shizen Denki plan of Softbank Denki, a service that utilizes renewable energy generated by SB Energy Corp.
Participating in the
"Fun to Share"
climate change campaign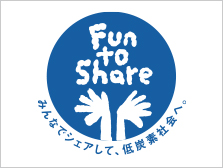 SoftBank is a supporter of "Fun to Share", a climate change campaign sponsored by Japan's Ministry of the Environment, following its "Team Minus 6%" and "Challenge 25 Campaign". Fun to Share is a means to share wisdom and technology in order to build a rich and low-carbon society in an enjoyable manner for everyone. Through participation in the campaign, SoftBank is promoting increased awareness and voluntary action among employees to implement continued energy efficiency at work sites and in work processes, encouraging and "cool biz" and "warm biz" (wearing cooler clothing during summer and warmer clothing during winter) on the Intranet to help realize a low-carbon society.
SoftBank obtains Eco ICT mark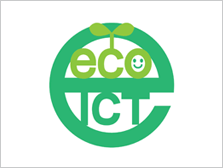 SoftBank supports the aims of the ICT Ecology Guideline Council and have acquired the ICT echo mark, which is awarded to corporations that meet certain criteria set by the ICT Ecology Guideline Council. The mark was acquired following a self-assessment by the companies of initiatives to reduce CO2 emissions at their businesses, such as the formulation of procurement criteria for equipment and services that focus on reducing CO2 emissions.
Self evaluation checklist
for initiatives
by telecommunications carriers
to reduce CO² emissions
Required item
Evaluation item
Implementation status and initiative details
Relevant page
Creation of a voluntary environmental action plan, etc.
Have you formulated and put into operation a voluntary environmental action plan which describes various initiatives for the purpose of reducing CO2 emissions through energy conservation
In addition to enacting environmental action guidelines to engage in the maintenance and preservation of the environment, we have established environmental targets for the entire company which include the reduction of the amount of energy usage, the promotion of the use of recycled paper, the proper disposal of industrial waste, and the implementation of green procurement and environmental education programs.
Environmental Management
Does the voluntary environmental action plan incorporate specific initiatives which describe various numerical targets for the purpose of reducing CO² emissions through energy conservation?
As an environmental target, we have established a numerical target for the reduction of power consumption which is being undertaken by the entire company.
Environmental targets
In addition to internally and externally publicizing the voluntary environmental action plan, are you engaging in activities to educate and communicate with employees to strive to improve their environmental awareness?
We have published the environmental action guidelines and environmental targets on this web site.
Moreover, we have posted this information on the CSR page of the company intranet for the employees while also striving to improve the awareness of each individual employee by providing regular e-learning and the dissemination of educational information about environmental awareness.
Environmental targets
Are you releasing information about the status of implementation and achievement of various initiatives described in the voluntary environmental action plan?
We have published such information about our environmental initiatives under the "CSR Corporate Social Responsibility Environmental and Resource Measures" section of this web site.
Environmental and Resource Management Policies
Procurement-related initiatives
Have you created any procurement standards for ICT equipment and data centers based on the evaluation criteria stipulated in these guidelines, and are you conducting procurement in accordance with those standards?
In order to promote the introduction of products which help encourage a reduction in CO² emissions, we enacted a set of "Green Procurement Guidelines" for all of our business partners which describe our basic approach to green procurement, and we are carrying out procurement activities in accordance with these guidelines.
Supply Chain Management
Are you conducting green procurement and other forms of procurement which consider energy conservation for business machines used in the office, goods, and distribution?
We have adopted recycled paper products which conform with the Eco Mark standard for our copier paper. Moreover, we are promoting the purchasing of low environmental load products for our stationery supplies such as Eco Mark products and products which conform wiGreen Purchasing Act.
3Rs (Reduce, Reuse, and Recycle)
Promotion system
Have you established a department or person in charge of initiatives to reduce CO² emissions through energy conservation?
We are reducing greenhouse effect gases across the entire company through an secretariat run by the CSR Division.
Environmental Management
Are you appropriately assessing the status of implementation and achievement of targets, etc. listed in the voluntary environmental action plan while also maintaining a system to perform internal audits?
After receiving ISO14001 certification, we are creating and appropriately reviewing environmental targets, checking the status of implementation and achievement of those targets, and conducting internal audits. We are maintaining a system to ensure that this type of environmental management system PDCA cycle is executed in the appropriate manner.
Environmental Management
Optional item
Evaluation item
Implementation status and initiative details
Relevant page
Initiatives for other environmental measures
Are you conducting any environmentally-conscious initiatives other than energy conservation initiatives?
We are actively engaged in promoting an improvement in the recycling rate of used mobile telephones, reducing the amount of paper resources used in mobile telephone packaging and bundled materials, and reducing the amount of waste material from communication equipment and building materials.
3Rs (Reduce, Reuse, and Recycle)
Are you conducting any environmental conservation activities in cooperation with the local community?
We grant two days a year for "community service leave," and multiple employees use this system every year to participate in tree planting, cleanup activities, and other various environmental conservation activities in cooperation with local communities.
-
Transforming agriculture with technology
We provide an agricultural IoT solution "e-kakashi" to navigate optimal growth environment, by analyzing environmental data and growth information obtained in farms and rice fields based on plant science, which allows us to identify important growth and inhibitory factors for each growth stage, and determine the present risks and ways to deal with them.
In Japan, the problem of the lack of successors in the agricultural field is becoming serious, and it is an issue how to pass on proficiency to young people, but we are aiming to increase the efficiency of succession by introducing ICT technology. Through technical support provided by e-kakashi, we will contribute to the realization of sustainable agriculture not only in Japan but also in the world.
Improving energy efficiency
at data centers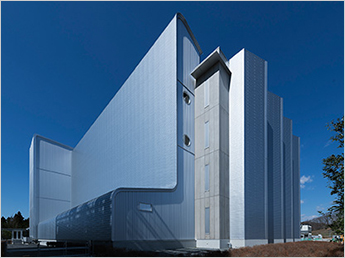 IDC Frontier Inc. works to raise energy efficiency at data centers. Its Kitakyushu Data Center (Kitakyushu City, Fukuoka) is the first large commercial data center in Japan to adopt air conditioning using outside air. The data center has realized energy conservation through the optimization of high-density server operations and air conditioning efficiency, and as a result, has won a number of awards.
In addition, at the Shirakawa Data Center in Shirakawa City, Fukushima Prefecture, IDC Frontier – using the area's cooler climate and the high-level expertise acquired from its experience in operating the Kitakyushu Data Center – has developed an in-building external air conditioner system that combines architecture capable of drawing external air directly into the building with air conditioner functions in order to process exhaust heat from servers. This system enables the data center to use cool external air for over 90% of its air conditioning needs.
Completed in 2018, Shirakawa Data Center's building no. 5 employs a hybrid air conditioning system that combines external air and water cooling with air cooling functions. It is expected to achieve a high cooling efficiency of approximately PUE*1 of 1.2.
In addition, the data center analyzes and verifies energy conservation effects to continuously promote further energy conservation.
[Note]

*1

Power Usage Effectiveness
An indicator of data center energy efficiency, the PUE is calculated by dividing the overall power consumption of the data center by the power consumption of its IT equipment. In general, data centers in Japan commonly have a PUE value of 2.0 or less.
Addressing water conservation
SoftBank is implementing initiatives to manage water use including the establishment of targets for the volume of water use as well as regular progress management and evaluations.
Conserving water
at the office
On each floor of the Shiodome headquarters building, we have installed sound imitation devices in the toilets and implemented initiatives to reduce the number of times that the water is flushed in addition to installing water saving devices in the water heater systems, etc. for the purpose of reducing the volume of water use. We are educating all of the employees about these initiatives to save water through communication over the company intranet.
Reducing energy and
paper consumption
through White Work Style
SoftBank is engaged in reducing environmental impact through the application of information and communications technology (ICT). Through the implementation and proposal of a new way of working called White Work Style, work efficiency is improved while the volume of paper and energy consumed in day-to-day business is also reduced.
White Work Style is a service that allows employees to access internal work systems and software simply by connecting to SoftBank's network. Home PCs or personal iPhones and iPads can also be connected to an environment equivalent to the office PC, allowing flexibility in working time and location, such as teleworking from home, when on the move or from outside of the office.
Furthermore, with computer processing carried out on network servers rather than individual computers, computer power consumption can be reduced. By centralizing these servers at a large-scale data center, operational efficiency can be improved and overall power consumption will be reduced.
According to estimates by the Ministry of Internal Affairs and Communications, energy consumption from the use of office automation equipment and lighting can be reduced by 43% with the introduction of telework. Even when energy consumption at the home office is factored in, it is possible to reduce energy consumption by 14%. Through the promotion of teleworking, it is possible to reduce the amount of energy consumption throughout society. It is also an important initiative from an energy conservation standpoint.
Moreover, through the use of iPhones and iPads, documents stored on servers can be accessed as necessary. This has made it possible to reduce paper handouts and to present information in a more effective manner using video.
Environmental education
SoftBank Corp. provides "ECO Training" through an e-learning program to help employees acquire basic knowledge and raise awareness of environmental issues. Employees can learn about environmental sustainability and improvement from four perspectives: global environmental issues, social trends in Japan and abroad, regulations and corporate initiatives, and explanations of key environmental legislation and regulations.
E-learning courses on appropriate processing of industrial waste and the Electronic Manifest System are available to employees working in this area.
Employees can also access these e-learning courses on demand from their iPads or iPhones. The percentage of employees who took environmental education among all employees in fiscal 2020 was approximately 46%.