Promotion of Occupational Safety and Health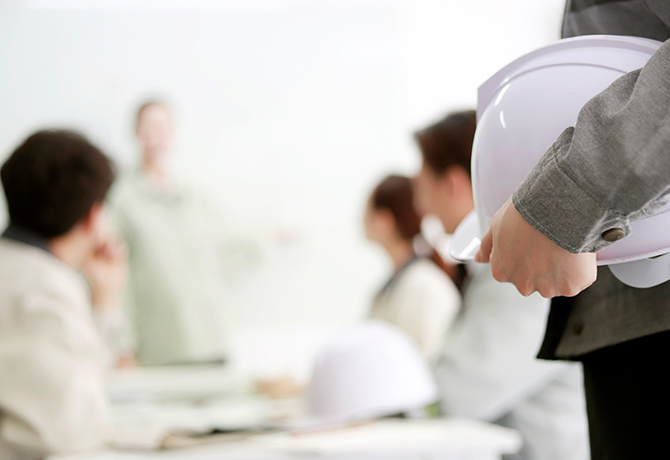 Policies
In order to maintain a working environment in which employees can work with both a healthy mind and body, "Safety and Health Management Rules" have been established for application to the SoftBank Corp. Group. Under a system centered on the Occupational Safety and Health Committee, we set target values and ascertain performance with respect to occupational safety and health as well as promote initiatives across the company and in each workplace to achieve the targets.
[Note]

*

Scope: SoftBank Corp. and its Group companies
Major initiatives
In-house risk checking and audits
As part of our risk assessment efforts, we ensure the health and safety of the employees by regularly implementing stress checks while also checking the employee work environment and job descriptions through workplace audits by an appointed industrial physician at a frequency of about once a month to identify latent hazards regarding occupational safety and health. The results of the risk assessment are reported to each workplace, and we undertake improvement activities directed at risk reduction for matters which are determined to be high risk. At the same time, safety competitions and video-based safety education activities are carried out together with the telecommunications construction companies to achieve zero accidents during construction.
Management of safety and health in the construction of base stations
As a telecommunications carrier, SoftBank Corp. manages orders for construction to our business partners. Since the construction of base stations involves dangerous work in high places, thorough safety and health management is required.
SoftBank Corp. has enacted its own "Construction Safety Policy" rules to eliminate dangers that workers may not be aware of by enhancing work site monitoring to ensure work site safety. At the same time, safety competitions and video-based safety education activities are carried out together with our business partners to achieve zero accidents during construction.
Appointment of work safety coordinators
We have appointed a "Construction Safety Manager" to oversee the overall safety of workers at our company and our business partners who cooperate with us on construction projects. The construction safety manager leads the management of safety in base station construction and is responsible for various awareness-raising and promotion activities. Including the formulation of safe work policies, development of management methods, training for workers, monitoring of each affiliated company, and planning of new measures to ensure the safety of on-site workers, including those of our business partners.
Support for work crews
In addition to sufficiently ensuring the safety of the work environment, SoftBank Corp. provides necessary safety equipment (e.g., protective gear) to our employees.We also begin construction work after educating the workers involved in the ordered construction about the rules for using the work tools and equipment.
Risk analysis and issue identification
2005-
Establishment of construction safety policy and assignment of full time supervisors.
2006-
Safety recognition for construction companies.
2008-
Promote the use of full harnesses (prior to legalization)
Deployment of safety slogans (every quarter)
2014-
Full harness safety belts are now fully mandatory.
2017-
A national safety convention (hosted by the company and attended by business partners)
In addition to the above measures, we are also implementing the Safety Pulse Survey and the Continuous Zero Accident Award since fiscal 2020.
| | |
| --- | --- |
| Safety Pulse Survey | The Safety Pulse Survey is designed to visualize the management status of individual construction sites by tracing the status of key safety management items implemented by business partners on a monthly basis. |
| Continuous Accident Free Award | The Continuous Accident Free Award is given to business partners that have been accident free for a long time and we commend them for their stable business operations and reliable safety management know-how. |
Safety measures during disasters or emergencies
In the event that an earthquake, typhoon, or other emergency occurs, we have prepared systems to ensure employee safety. When an emergency occurs, an emergency headquarters will be established as needed to enact appropriate measures based on the rules, etc. prescribed by SoftBank Corp. Moreover, we also undertake regular internal training and facility safety measures, etc. to prepare for emergencies. In addition, as a safety measure during ordinary times, drinking water, food, and other daily necessities are stored at sites around the country as part of efforts to build an environment which ensures that employees stay healthy during a disaster.
Safety and Health Management for Employees and Overseas Assignments, Including Family Members
In order to ensure the health and safety of employees and their family members who are posted overseas, we provide information on interviews with industrial physicians for employees prior to their posting, make it mandatory for employees on assignment to undergo medical examinations upon their temporary return to their home countries, subscribe to medical examination support services at their posts, monitor physical and mental health, and to follow up on issues arising in day-to-day life through personnel interviews before, during and after their assignments, and confirm their safety in the event of an emergency. We are also taking various measures to support our employees so that they can work overseas with peace of mind.