Growth strategy
SoftBank Corp.'s "Beyond Carrier" growth strategy aims at sustainable growth in our core telecommunications business, while at the same time going beyond just being a telecommunications carrier to actively roll out new businesses in the information and technology field, with the aim of maximizing corporate value.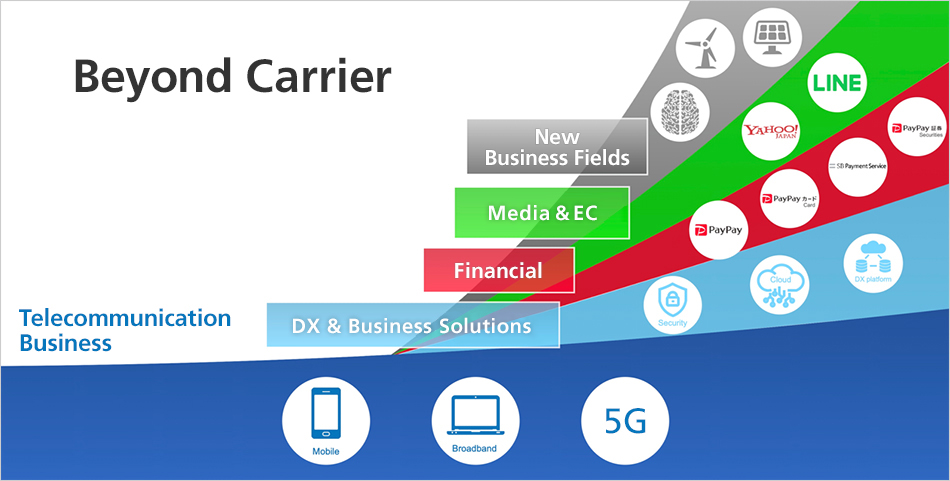 In the telecommunications business, we are providing multiple attractive brands to customers to expand the number of smartphone and broadband subscribers. We are also making effort to develop and spread 5G services. On top of this, we are actively developing our businesses in the fields beyond telecommunications. Primarily through our subsidiaries Yahoo Japan Corporation and LINE Corporation, we are expanding services for e-commerce, Internet media, finances, and social media and communications.
The rapid growth of the cashless payment service PayPay is spearheading the rise of new businesses and solutions businesses using cutting-edge technologies such as AI, IoT, and FinTech technologies.
Strategies by segment
Consumer

An explanation of the growth strategy of our consumer business, which provides mainly mobile services and home broadband services to individual customers.

Enterprise

An explanation of the growth strategy of our enterprise business, which provides telecommunication services and solution services such as cloud and security to enterprise customers and local governments.
Yahoo! JAPAN/LINE

An explanation of the growth strategy of our Yahoo! JAPAN/LINE business, which provides Internet media, e-commerce, financial services and communication services.

New business fields

An explanation of the growth strategy of our new businesses, including the fast-growing cashless payment service PayPay.
Financial targets
The forecasts for FY2022 are as follows.