Management Policy and Strategy
Corporate philosophy
Information Revolution – Happiness for everyone
SoftBank Corp. (the "Company") and its subsidiaries (the "Group", "we") aspire to realize the following corporate philosophy: "Information Revolution – Happiness for everyone." The Group aims to be a provider of the most essential services and technologies to people around the world. To this end, the Group will seek to maximize corporate value through its wide range of businesses in the information and technology industry.
Corporate Philosophy,


Vision and Values
Management policy
We will contribute to a sustainable
society by pursuing our corporate philosophy
Guided by the above corporate philosophy, the Group contributes to maintaining sustainable society by creating "a world where all things, information and minds are connected," and strives to increase its enterprise value over the medium and long term. To achieve this, in April 2020 we defined the following six priority issues (Materiality) to be tackled by the Group.
SoftBank Priority Issues
(Materiality)
Solving social

issues through


business

Solving social

issues through


corporate


activities

Materiality (Priority Issues)
Aim to achieve sustainable growth and mid- to long-term corporate value increase by implementing both growth strategy and structural reform
Growth strategy

"Beyond Carrier"

Transform from a telecom carrier to
a comprehensive internet services company

The Group has designated "Beyond Carrier" as our growth strategy since fiscal year 2017. We aim to expand business fields other than telecommunications by making full use of AI and other technologies, while further growing the telecommunications business by expanding the number of smartphone and broadband subscribers and deploying the new infrastructure 5G (5th generation mobile communication system). We will maximize synergies with our subsidiary Z Holdings Corporation ("ZHD"). The business integration of ZHD and LINE Corporation ("LINE") in March 2021 will create group synergies with the aim of becoming a unique digital platform that no other company can match.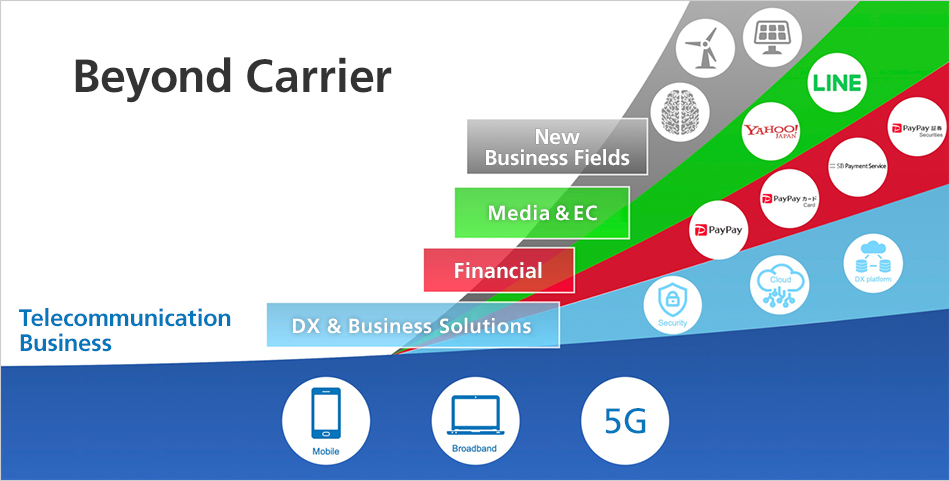 Under the above strategy, the Group has diversified its revenue sources. The ratio of mobile communications charge*1 to total revenue and operating income have dropped significantly, transforming the Group from a telecom carrier into a comprehensive internet services company.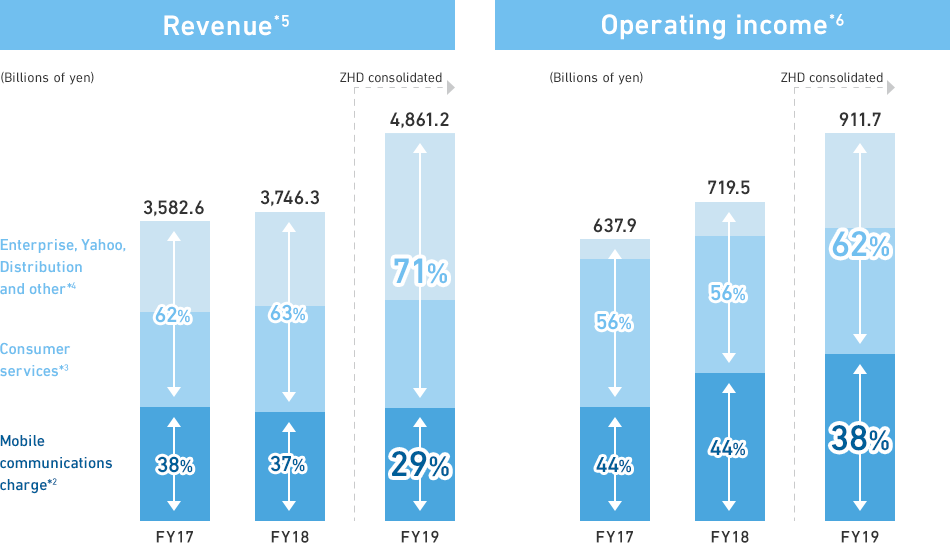 [Notes]

*1

Pro forma (non-audited) information calculated using certain assumptions by the Company. FY18 is not retroactively adjusted for the impact of consolidating ZHD.

*2

Mobile communications charge mainly includes basic charge, voice call charge and data flat rate fee.

*3

Consumer services include mobile value-added services, broadband services, electricity and sales of goods and others. Mobile value-added services are mainly supplementary services for consumer mobile subscribers, including device warranty services and security services.

*4

Mobile communications charge for Enterprise is included in "Enterprise, Yahoo, Distribution, and Other."

*5

Sales to external customers is used as Revenue.

*6

Operating income of "Enterprise, Yahoo, Distribution, and Other" includes adjustments.
As we enter the 5G era, where everything in people's lives and businesses is connected to networks, digital transformation ("DX") will accelerate further. As a result, information is becoming increasingly data-driven, and the use of AI, IoT, and big data for data collection and analysis is spreading rapidly. Our group has a high advantage as a company that holds Japan's leading platforms such as telecommunications networks, internet media, payment platforms, and messaging applications under its arms. Going forward, we will utilize the data obtained from these platforms to create group synergies in a data-driven society and expand into new areas beyond telecommunications.
Non-telecom growth: Enterprise
Promoting digitalization of enterprises and industries for further revenue growth
Business targets
10% or more segment income growth every year
10% or more revenue growth every year in Business solutions and others
DX for enterprises
The enterprise business has a track record of doing business with 93% of large corporations* in Japan. We support enterprise DX through more than 100 types of digitalization solutions that utilize not only telecommunication devices and networks but also cloud, AI, IoT, and RPA (Robotic Process Automation).
[Note]

*

This is an approximate percentage of 900 companies which the Company has transactional relationships with, out of the 969 listed companies that have annual revenue of at least ¥100 billion.
Providing more than 100 types of digitalization solutions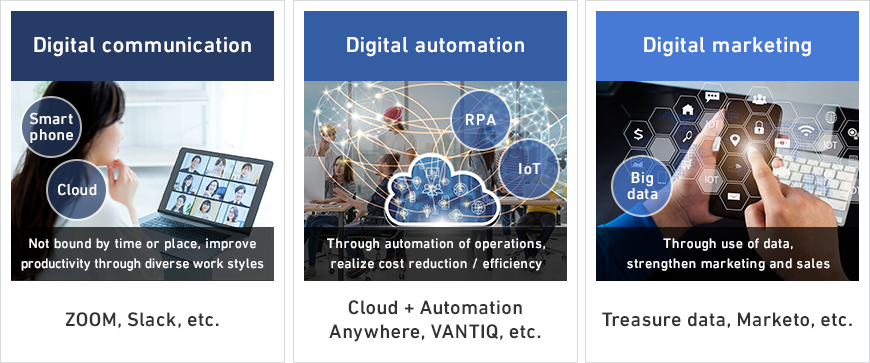 DX for industries
About three years ago, we established a department dedicated to DX to promote not only the digitization and automation of business operations, but also to encourage DX in industries and create new businesses. With the launch of 5G commercial services in 2020, we are progressing various projects with the expectation of solving social issues using ICT. Specifically, we are working to solve social issues using AI, IoT, and 5G by co-creation with partner companies in a variety of fields, including healthcare services that allow people to consult with healthcare professionals at home, smart cities that utilize big data for sustainable and optimal urban development, and smart logistics that improves the efficiency and productivity of the entire supply chain.
Solving social issues with partner companies using AI, IoT, and 5G
24/7 consultation with doctors, nurses, and pharmacists, hospital search, and over-the-counter drug information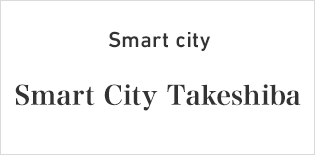 SoftBank Headquarters
More than 1,000 sensors that collect information about buildings and the city, and provide necessary information
Promoting DX in the logistics industry by creating applications that enable anyone to easily register orders, assign trucks, create work schedules, and other tasks in transportation operations
SoftBank DX (Japanese)
Non-telecom growth: Yahoo
A home-grown platformer with an unsurpassed understanding of Japanese users
| | |
| --- | --- |
| Business target | To achieve No.1* in e-commerce merchandise transaction value in Japan in the first half of 2020s |
[Note]

*

Transaction value for merchandise in e-commerce field
Integrating online and offline data to create new sources of revenue
ZHD, one of the largest internet companies in Japan, provides seamless access to a wide range of services, including search, media, commerce, and payments. In addition, with the user base of PayPay, a smartphone payment service launched in fiscal year 2018, we are building a structure that will enable us to understand the offline behavior with the consent of users. By analyzing user preferences and actions across the online-offline boundary, we will be able to enhance the usability of our services, provide a better response to user needs, and create and expand a multilayered revenue structure.
Commerce field
ZHD provides commerce-related services such as PayPay Mall, PayPay Flea Market, Yahoo! JAPAN Shopping, ASKUL, ZOZOTOWN, membership services such as Yahoo! JAPAN Premium and financial services such as credit cards. With the business target of becoming No. 1 in e-commerce merchandise transaction value in Japan in the first half of 2020s, ZHD aims to achieve rapid growth in the commerce field across the entire ZHD Group by creating an environment that is friendly and convenient for both sellers and buyers. In addition, while PayPay Corporation, which develops and provides smartphone payment services, has achieved remarkable growth, we are aiming to unify existing financial services under the "PayPay" brand and expand our business in the financial field.
Media field
ZHD provides advertising-related services on the internet. ZHD initiated the "integrated marketing solutions" that aims to visualize and maximize the effectiveness of user-targeted advertising by comprehensively understanding users' online and offline consumption behavior through Yahoo! JAPAN IDs. In this way, ZHD will strengthen its ability to expand future advertising revenue.
Non-telecom growth: New business fields
Leveraging the management resources cultivated in the telecommunications business for faster new business creation
Business targets
Peak out loss on PayPay
Revenue expansion in new non-telecom businesses other than PayPay
PayPay evolving to a "super app" and full-scale entry into financial services
PayPay Corporation, which we established jointly with ZHD, provides the smartphone payment service PayPay using barcodes and QR codes. The success of various campaigns designed to encourage customers to use the service on a daily basis has greatly increased recognition. In January 2021, the total number of registered users exceeded 35 million*1, and the number of merchants where PayPay can be used exceeded 2.8 million*2.
[Note]

*1

Number of users registered to PayPay

*2

The number of applications for PayPay merchant contracts, including stores and taxies.
PayPay is evolving every day to become a multi-functional "super app" that can be used in all aspects of daily life, and to promote the spread of cashless payment in Japan. A "super app" will be able to add more and more convenient functions on top of the payment function and make all kinds of services related to daily life available through PayPay. This is possible only with smartphone payments, making it different from credit cards and transportation IC cards that are limited to payment function.
From fiscal year 2020, financial services such as "borrowing money" and "bonus management" have been added to PayPay as mini-apps. In the future, financial services will be expanded to include everything from loans and investments to insurance. In addition, ZHD announced that Japan Net Bank will be renamed PayPay Bank and Yahoo Card will be renamed PayPay Card.
With the PayPay platform at the core, the Group will focus on the financial business.

PayPay has been achieving the plans and milestones that we set at the beginning of the business ahead of schedule. The upfront investment for the vertical launch has peaked out. We aim to improve the loss from fiscal year 2020 onwards, bottoming out in fiscal year 2019.
We are also expanding new businesses other than PayPay, through collaboration with various business partners inside and outside of Japan, and through the establishment of joint ventures, taking full advantage of management resources cultivated in telecommunications business and our membership in the SoftBank Group.
Initiatives of other new business fields (Japanese)
Further growth in telecommunications
Multi-brand strategy and pursuit of group synergies
| | |
| --- | --- |
| Business target | To achieve 30 million smartphone subscribers in fiscal year 2023 |
The driver of the growth of our telecommunications business is the increase of the number of smartphone subscribers. We are aiming for 30 million smartphone subscribers in fiscal year 2023 by thoroughly reinforcing our multi-brand strategy of developing three differentiated brands, strengthening 5G services, and focusing on collaboration with Yahoo and PayPay.
Multi-brand strategy
In response to the diverse needs of our customers, we offer three differentiated brands, including the SoftBank brand for users who actively use smartphones, the Y!mobile brand for light users, and LINEMO, the new online exclusive brand responding to the growing need for online services, associated with the increase of the digital native generation of users increase and the changes of their lifestyles.

For customers whose needs have changed due to lifestyle changes and so on, we offer simple procedures and free of various charges for transferring between different brands within the group, thereby promoting upgrades and retention.
Differentiation through collaboration with Yahoo services and PayPay
In order to differentiate our services from those of other companies, we are accelerating our collaboration with Yahoo services and PayPay. For example, we are offering Yahoo! JAPAN Premium membership services free of charge, point rewards for using Yahoo's e-commerce services, PayPay bonus for long-term users of our mobile services, and the payment of PayPay usage together with users' mobile communication charges. These unique services are contributing to both the acquisition of new smartphone subscribers and the promotion of continued service usage. Going forward, with PayPay at the core, we will further strengthen the linkage between mobile services and e-commerce, payment and financial services, and further enhance our competitive advantage through the collective strength of our services.
Technology strategies for growth
SoftBank's innovations in technologies to enable more convenient and comfortable lifestyles
We are working on developing a variety of technologies that use the data generated from connections between people, things, and services with the goal of transforming SoftBank into a platform for solving social issues and enriching people's lives.
Research and Development (Japanese)
5G strategy
The Group launched 5G commercial services in March 2020. Going forward, we plan to expand the 5G coverage by maximizing the strengths we have accumulated in 4G and collaborating with other companies. We aim to have 5G networks coverage across all 47 prefectures in Japan by the end of fiscal year 2020, with a population coverage of over 90% by the end of fiscal year 2021.
Currently, 5G service is combined with 4G (non-standalone). We plan to launch 5G-only standard (standalone) in fiscal year 2021. When the population coverage of 5G exceeds 90%, we expect that 5G will be used not only for smartphones and tablets, but also for autonomous driving and remote medical care and other services that will take full advantage of the 5G features of ultra-high speed, large capacity, low latency, and massive machine connections.
SoftBank initiatives for 5G (Japanese)
New businesses aim at a future where everyone is connected to the regional community and the world through ICT
Structural reform
While aggressively promoting investment for growth to implement our "Beyond Carrier" strategy, we are also working on thorough cost efficiency, including group synergies, and aiming to improve profitability by keeping fixed costs* at the current level while revenue is increasing.
| | |
| --- | --- |
| Business target | Keep fixed costs flat |
[Note]

*

Fixed costs include depreciation & amortization, network-related expenses, personnel expenses, advertising and marketing expenses, sales commissions and promotion expenses, and expenses related to stores and offices for consumer and enterprise segments.
Cost strategy 1
Productivity improvement and workstyle reform
Network efficiency and optimization
Through our growth strategy, we plan to increase consolidated revenue by ¥600 billion in three years, and we assume that this will cause an increase in fixed costs of approximately ¥50 billion. The Group plans to achieve the same amount of cost reduction through productivity improvement by DX and workstyle reform, as well as network efficiency and optimization. As a result, we will be able to maintain the overall fixed cost at ¥1 trillion without increasing it.
Cost strategy 2
Further cost reduction through group synergies
We are working to maximize cost synergies within the Group. For example, we have strengthened cooperation with our subsidiary ZHD on purchasing strategies and accelerated joint purchasing of network equipment and other items, thereby reducing the procurement costs by ¥7 billion in fiscal year 2019. In addition, we will promote cost reduction across the entire Group by optimally utilizing the in-house resources within the Group.
Financial targets
Target ¥1 trillion of operating income
Regarding the "target of ¥1 trillion operating income" announced in May 2019, we decided a timeframe for achievement in fiscal year 2022 and specific financial targets.
| | FY2022 Target |
| --- | --- |
| Revenue | 5,500 |
| Adjusted EBITDA | 1,700 |
| Operating income | 1,000 |
| Net income attributable to owners of the Company | 530 |
| CAPEX*1 | Approx. 400/year |
| Adjusted free cash flow*2 | Approx. 670/year |
| Net leverage ratio*3 (times) | 2.4x or lower |
[Note]

*1

CAPEX: acceptance basis, excluding CAPEX of Z Holdings Corporation Group, rental mobile phones for enterprise customers, and impact from IFRS 16

*2

Adjusted free cash flow = free cash flow ± total cash flows relating to non-recurring transactions with SoftBank Group Corp. + (proceeds from the securitization of installment sales receivables – repayments thereof), including the impact from adopting IFRS 16, excluding free cash flow of Z Holdings Corporation Group.

*3

Net Leverage Ratio = net interest-bearing debt / adjusted EBITDA

*

The FY2022 targets do not reflect the financial impact of the business integration of Z Holdings Corporation and LINE Corporation.
Simultaneous pursuit of growth and shareholder returns
The Group considers free cash flow, which is the source of growth investment and shareholder returns, to be a significant management indicator. In order to achieve both continued investment for growth and high shareholder returns, we aim to limit capital expenditure to approximately ¥400 billion annually, while investing ¥50-70 billion annually in growth investment including M&A, to generate stable free cash flow of ¥670 billion or more annually.
The Group is also working to maintain a healthy financial position and will gradually improve its net leverage ratio from 2.4 times in FY2019.
Shareholder Returns and Dividends