Promotion of a Recycling-oriented Society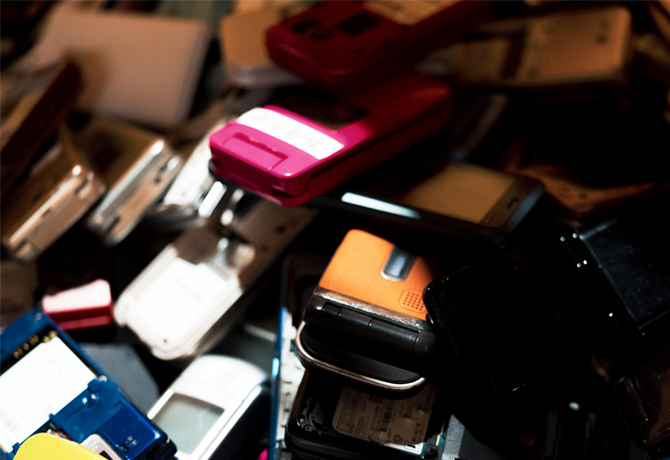 We are active in the 3Rs and Mobile Device Recycling (reduce, reuse, and recycle) to make efficient use of resources in our business operations, promoting sustainable production and consumption activities and contributing to reduced environmental impacts and the realization of a recycling-oriented society.
The 3R's (reduce, reuse, recycle)
3R initiatives (Reduce: reduce the volume of waste, Reuse: use repeatedly, Recycle: utilize once again as resources) have started in various settings to achieve the goal. We are working to achieve a recycling based society by promoting 3R activities.
At our affiliated company SBC&S, we design and develop environmentally friendly products (PCs / mobile peripherals) through our eco-design process, such as reducing the resources materials making products smaller and lighter, and also facilitating the reuse and recycling of parts by making the structure easy to disassemble.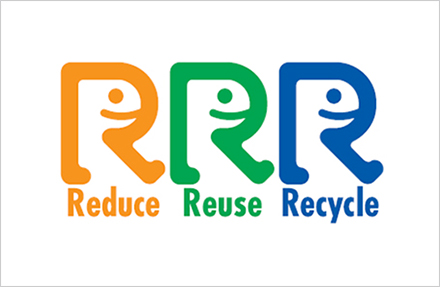 Promoting 3R activities
in mobile telephone services
Reduce
We strive to reduce the amount of paper resources used in the sales of mobile information devices by making individual packing boxes smaller, converting instruction manuals and other bundled documents to applications, and utilizing iPads in our stores.
Moreover, to replace the conventional paper-based invoices, we launched an "online charges guide" starting with the October 2006 statement which allows users to view electronic billing statements over the Internet from a SoftBank mobile telephone or PC. This is provided as a basic service to all individual subscribers.
Reuse
We promote trade-ins of previously used and functional mobile telephones and tablets during model upgrades, etc.
Processing all mobile telephones and tablets which are still usable as waste material increases the environmental loading. Because even older devices which are no longer in demand within Japan can be effectively put to use overseas, trade-in devices are refurbished and reused primarily in developing countries.
Recycle
Collection of used mobile telephone handsets
and battery packs, etc.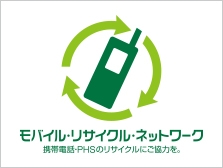 As a member of the Mobile Recycle Network (MRN), an organization which engages in mobile telephone and PHS recycling activities, we promote the collection of used mobile telephone handsets, battery packs, chargers, USIM cards, and other items regardless of the mobile telephone carrier or manufacturer. To make customers feel at ease and encourage cooperation with recycling efforts, mobile telephone handsets are processed for recycling by being physically destroyed with a "mobile telephone punch" during collection. In FY2020, we collected 2.54 million used mobile phones for reuse and recycling.
Mobile Recycle Network (Telecommunications Carriers Association) (in Japanese)
Promoting resource recycling
As part of our product stewardship efforts intended to reduce environmental loading, used mobile telephone handsets and battery packs are collected and go through recycling processing to recover the rare metals (palladium, cobalt, etc.), gold, silver, copper, and other resources that they contain. In addition, the remaining by-products (slugs) of the recycling process are used as raw materials for concrete cement while the plastic materials from the handsets are recycled as supplement fuel and recycled plastics.
Besides mobile telephones, we also promote the recycling of used cables, switching equipment, utility poles, and other telecommunications equipment waste material when upgrading and removing networking equipment.
Implementing educational activities to teach about recycling
We host an environmental class called "Recycle" where children can learn the importance of recycling through firsthand experience of mobile telephone disassembly. The purpose of this program is to have children actually breakdown the resources (rare metals) within mobile telephones and use their creativity by making handcrafted works which use the mobile telephones to learn about recycling while having fun. More than 500 children have participated in the Risaikuru course between April 2018 and March 31, 2021.
Reasons why mobile telephone recycling is required
Mobile telephone handsets, batteries, and chargers, etc. contain rare metals (palladium, cobalt, etc.), gold, silver, copper, and many other precious resources with limited output which are reused as raw materials for components in electronic devices, etc.
Because rare metals can be more efficiently recovered through recycling rather than digging them up from a mine, the advancement of recycling not only prevents deforestation and other forms of environmental destruction due to mining but also avoids conflicts over mining rights. Moreover, such efforts also lead to more effective usage of the mining resources which Japan lacks. We ask for your continued understanding and cooperation with our recycling efforts.
Implementing 3R activities at the office
Promoting green purchasing
As part of our green purchasing efforts, starting in July 2004, as a general rule we changed all of our copy paper to recycled paper products which comply with the Green Purchasing Act. Moreover, Green Purchasing Act compliant products, Eco Mark products, and other stationery supplies with environmental labels are displayed on the purchasing web site to promote the green purchasing of products with a low environmental load.
Internal reuse of furniture and stationery
Out of a concern for the environment, a reuse shelf was installed at the entrance of the Employee Support Center on the 19th floor of our headquarters office for the purpose of controlling waste discharge. We have implemented a mechanism by which furniture and stationery which are no longer needed by various departments are collected and internally reused.
Declaration of zero paper usage in internal operations
Since April 2012, SoftBank Corp. has advanced a "Declaration of zero paper usage in internal operations" and has been proactively promoting a shift to paperless operations for all paper used in internal and external procedures as well as paper used in reports and meetings, etc.
Achieving "100% paperless" operations in the customer support center
To eliminate the risk of information leaks due to the removal of printed media, individual operations which used a large volume of paper including manuals, memos, and notices were identified and improved to achieve "100% paperless" (zero paper usage) operations within the Customer Support Center which handles private customer information. As a result, annual paper usage has been reduced by 3.12 million sheets (equivalent to 240 tree logs) compared to previous years.
Processing industrial waste in the appropriate manner
We aim to reduce the final disposal volume by devising ways to reuse telecommunications equipment waste and construction material waste from network facilities while also implementing the proper disposal of industrial waste created by offices, distribution centers, and other business activities based on the Industrial Waste Disposal Act.
Buying back unnecessary ICT equipment
At SB C&S, we provide an "ICT Lifecycle Service" which buys back unnecessary ICT equipment as part of our ICT equipment sales efforts. Out of a concern for the environment, the purchased products are reused and recycled*, waste discharge is controlled, and they are efficiently utilized as precious earth resources and socially recycled products.
[Note]

*

The recycling rate is approximately 99.6% in the case of desktop PCs.
Secured recycling box
for collecting confidential documents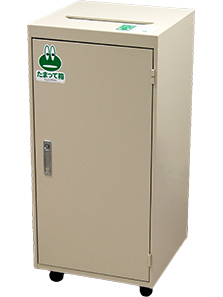 Instead of individually processing unnecessary documents as wastepaper, they are collected in a special locked security box for collecting confidential documents and batch dissolved at a later date to ensure security and recycling as toilet paper.
Group companies initiatives
(Yahoo Japan Corporation)
At Yahoo Japan Corporation, as a part of climate changing measures, carbon offset is an effort to reduce CO₂ emission from recycled documents. Our corporate group have a way to protect confidential information and documents in a recycling bin called "Mamoru-Kun".
Nihon Purple CO., LTD is conducting carbon offset. During April 2019 to March 2021, roughly 23.72t of CO₂ reduction was successful.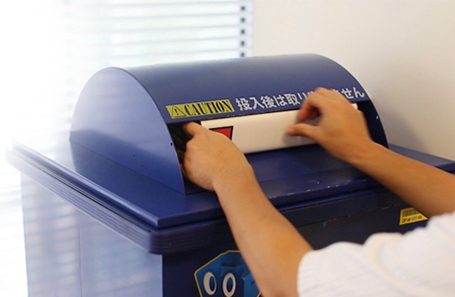 | Contents | FY2017 | FY2018 | FY2019 | FY2020 |
| --- | --- | --- | --- | --- |
| CO₂ Reduction of Carbon Offset | 47.18t | 51.02t | 38.60t | 23.72t |
[Note]

*
Resource-conserving initiatives
Reducing plastic waste
with LIMEX
SoftBank and Y!mobile stores are gradually switching to low environmental load products such as the "Bio LIMEX Bag" made from a new limestone-based material called "LIMEX"* which is used in plastic handbags when handing out catalogs and other items to customers. Utilizing LIMEX will help protect the global environment by reducing plastic waste, protecting biodiversity, controlling the use of water resources, and conserving forests through controlled pulp use.
[Note]

*

Developed, manufactured and distributed by TBM Co., Ltd.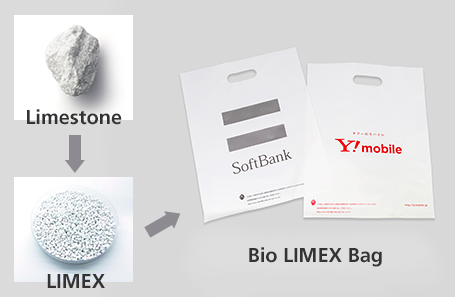 Appropriate use of water resources
We recognize that water is both necessary for our business activities and an important resource for the local communities in which our business sites are located. Accordingly, we are addressing water risk and promoting the efficient use of water resources on a companywide basis.
The Environment Committee effectively manages water risk while conducting managerial supervision that ensures both companywide response to these risks and efficient water resource utilization.
Office initiatives
We aim to maintain office consumption of water for domestic use at a level that is slightly lower than in the previous fiscal year. And we are implementing water usage management initiatives, including setting water usage targets and regularly managing and evaluating progress on relevant activities.
Mandatory items [Unit]
FY2017
FY2018
FY2019
FY2020
Water usage
Volume of office water consumption and drainage1 *1 [m³]
714,163
738,517
1,191,210
1,330,834
Consumption rate (water usage per unit of floor space) [m³/m²]
0.93
0.92
0.73
0.82
[Notes]

*1

For offices that do not have individual meters, calculations were performed using the area primary unit based on the actual usage values within the Group.

*

Values are determined based on the following parameters.
-Through FY2018: SoftBank Corp. (parent)
-From FY2019: All SoftBank Corp. (parent) business sites and major affiliates (Yahoo Japan Corporation, ASKUL Corporation)
On each floor of our corporate headquarters building located in the Takeshiba area of Tokyo, we have fitted hot water supply systems with water-saving equipment and installed sound generating devices on toilets in an effort to reduce the number of times they are flushed. We are also raising employee awareness regarding water conservation by informing them of these activities through our intranet and other media.
In addition, rainwater is collected from the roof, etc., via a roof drain. Kitchen drainage is also collected, stored, and sterilized. The collected water is then reused as water for flushing toilets. This contributes to savings of more than 30% for miscellaneous water.
Support for building new water supply systems in regions where maintenance of water infrastructure is difficult
SoftBank is collaborating with WOTA Corp. (hereinafter, "WOTA"), which possesses water recycling treatment technology using AI (artificial intelligence) and IoT. In depopulated regions, etc., where it is difficult to maintain water pipes, water treatment facilities, and other types of water infrastructure, we are taking measures to construct mechanisms for supplying water to households and facilities through new decentralized water supply systems that are separate from water infrastructure. Furthermore, sales of WOSH, which is a portable handwashing machine that is manufactured by WOTA and uses water circulation, were started on May 10, 2021.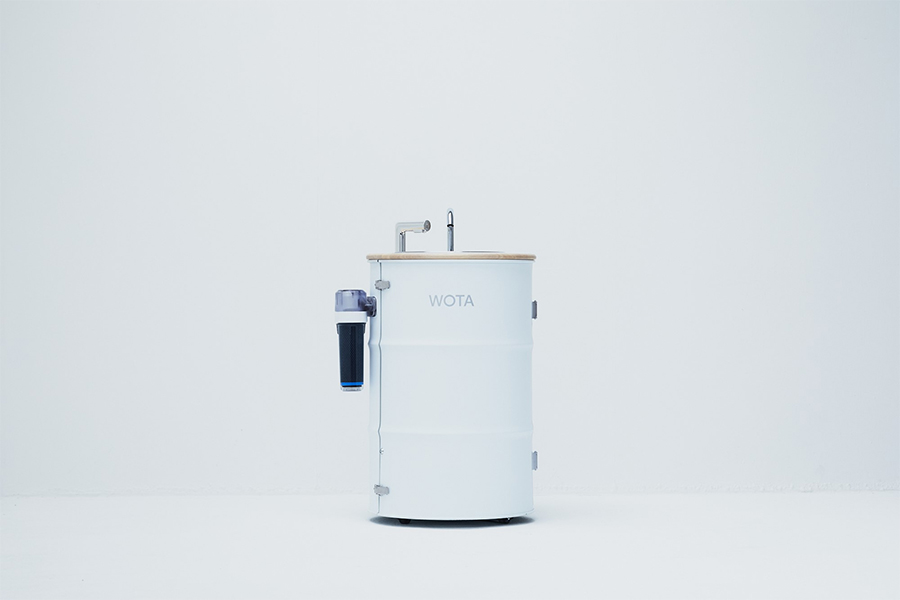 Understanding regions subject to water stress
Using the Aqueduct data platform run by the World Resources Institute (WRI), we have identified regions that are subject to water stress and have confirmed that, based on considerations of wastewater pollution risk and reports from surrounding areas, none of our business sites are associated with high overall water risk.
[Notes]

*

As of May 31, 2021

*

Regions listed under the Overall Water Risk indicator on the Aqueduct's Water Risk Atlas
Reducing energy and paper consumption through White Work Style
SoftBank is engaged in reducing environmental impact through the application of information and communications technology (ICT). Through the implementation and proposal of a new way of working called White Work Style, work efficiency is improved while the volume of paper and energy consumed in day-to-day business is also reduced.
White Work Style is a service that allows employees to access internal work systems and software simply by connecting to SoftBank's network. Home PCs or personal iPhones and iPads can also be connected to an environment equivalent to the office PC, allowing flexibility in working time and location, such as teleworking from home, when on the move or from outside of the office.
Furthermore, with computer processing carried out on network servers rather than individual computers, computer power consumption can be reduced. By centralizing these servers at a large-scale data center, operational efficiency can be improved and overall power consumption will be reduced.
According to estimates by the Ministry of Internal Affairs and Communications, energy consumption from the use of office automation equipment and lighting can be reduced by 43% with the introduction of telework. Even when energy consumption at the home office is factored in, it is possible to reduce energy consumption by 14%. Through the promotion of teleworking, it is possible to reduce the amount of energy consumption throughout society. It is also an important initiative from an energy conservation standpoint.
Moreover, through the use of iPhones and iPads, documents stored on servers can be accessed as necessary. This has made it possible to reduce paper handouts and to present information in a more effective manner using video.

Identifying the risks and opportunities
We have identified the risks and opportunities that resource depletion poses to our company and are managing data on environmental impacts.
Risk
SoftBank

Customer loss due to reputational risk if the initiative is insufficient
Financial impact due to strengthening of legal regulations

Supply chain

Supply shortfalls due to rare metal depletion
Cost increases

Opportunity
Brand enhancement through the promotion of 3R initiatives
Volume of industrial waste generated
and final disposal volume
Item
(Unit)
Fiscal year
2016
2017
2018
2019
2020
Volume generated (t)
1,286
1,159
1,092
5,226
6,313
Final disposal volume (t)
38.6
34.8
32.8
153
832
[Notes]

*

The boundaries are as follows.
-Up to FY2018: SoftBank Corp. (non-consolidated)
-FY2019 and beyond: all SoftBank Corp. (non-consolidated) business offices and major affiliated companies (Yahoo Japan Corporation, ASKUL Corporation)

*

The increase in FY2019 is due to the boundary change.

*

Revised calculation method for final disposal volume from FY2020.