Promoting workstyle transformation
with "Smart & Fun!"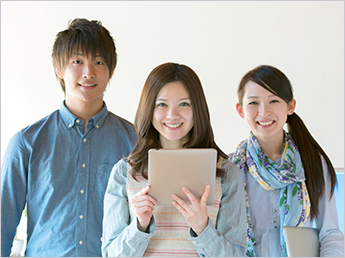 Our work slogan is "Smart & Fun!". We are working to bring about a workstyle transformation that allows us to work smart and have fun, freeing us to be more creative and innovative.
We have introduced the Super Flextime System, which maximizes achievements through greater work efficiency, which may not be possible with conventional working hours. Investing in individual growth and allocating time for self-development, employee exchanges and communicating with friends and family is important to our goal of fostering innovation and creativity and our company overall. Our aim is to make it "Fun!" for people to work, under the prospect that it will lead to better results.
Initiatives toward implementing workstyle transformation
We have carried out various initiatives to implement our "Smart & Fun!" system.
Super Flextime System
This system eliminates core working hours and allows employees to change their starting and ending times on a daily basis based on work conditions.
Work From Home System
Employees with restricted working hours due to childcare, elderly care or a disability can work from home up to three times per week. This is currently in a trial phase, but our aim is to expand this system to all employees in the future.
Smart & Fun! Support Fund
*1
We are providing a Smart & Fun! Support Fund of 10,000 yen per month for all full-time employees in order to utilize time saved through efficiency reforms as opportunities for personal growth.
[Note]

*1

The period for the support fund correlates to the period of the "Smart & Fun!" concept and is limited to the period between April 2017 and March 2019.
Premium Friday
We support Premium Friday, a measure developed by Japan's Ministry, Economy, Trade and Industry (METI) and the Premium Friday Promotion Council to promote consumption. With this measure, we encourage employees to leave at 3PM on the last Friday of every month.
No Overtime Day
We have initiated a No Overtime Day every Wednesday in order to promote a healthy lifestyle and to allow for personal time after leaving work.
Second jobs and inter-company exchange
We allow employees to take second jobs that will help them develop skills and grow as long as it will not have an impact on the company's business, and they receive permission from the company first. We also continuously provide workers with opportunities to interact with employees of other companies through events such as Premium Friday Networking Meets*2.
Our goal is for the knowledge and expertise acquired by the employee through these initiatives to be combined with the experience and knowledge already cultivated to create innovation that will lead to new businesses in the future or revitalize existing businesses.
[Note]

*2

These are networking events held on "Premium Fridays" where employees can discuss topics such as working styles with employees of other companies and learn from the knowledge and expertise possessed by these companies.
AI, IoT, and RPA case study presentations
SoftBank Corp. is using AI, IoT, and RPA (Robotic Process Automation) to improve operations and make them more efficient, and we hold regular events in which the personnel involved present case studies of how these are being used in our workplaces. Successful case studies, such as the use of AI in the selection process for hiring new graduates, are expanding and developing across the company, realizing "Smart & Fun!" workplaces and leading to the creation of new initiatives.
Diversity and health management as the foundation for realizing "Smart & Fun!"
We believe that the combination of varied individual capabilities which results from diversity and the physical and mental wellbeing of each employee which is supported health management creates a foundation for realizing "Smart & Fun!" We will continue promoting diversity and health management with the aim of making the entire company more innovative and creative, which will lead to even greater results.