Creating a Healthy Working Environment
In accordance with our basic mental and physical health policy, we aim to maintain and improve the health of our employees. Furthermore, as the physical and mental wellbeing of each individual employee is the driving force behind realizing both company and personal dreams and ambitions, we have positioned the maintenance and improvement of employee health as an important management issue in our Health Management Declaration.
[Note]

*

SB Atwork Co., Ltd. is a subsidiary of SoftBank Corp.
Health management declaration
The most important foundation for tackling this new stage of the information revolution and realizing continuing growth is to be a group in which each individual employee is healthy in both mind and body and always brimming with energy. In signature SoftBank style, we will actively utilize cutting edge AI and information and communication technologies to promote health management that maintains and enhances the wellbeing of our employees and their families.
Junichi Miyagawa
President & CEO, SoftBank Corp.
Health management promotion system
The basic mental and physical health policy outline
Support the wellbeing of all SoftBank Group employees so all work aspirations can be achieved with a sound body and mind.
Work to create a safe and comfortable work environment in which each employee can reach their full potential.
Observe compliance related to occupational health and safety laws to become a highly trusted corporate group amongst internal and external stakeholders.
External evaluation
Recognized under the large enterprise category of the 2021
Certified Health & Productivity Management Outstanding
Organizations Recognition Program (White 500)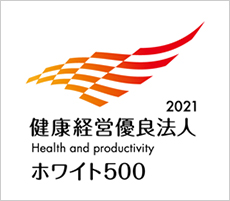 SoftBank was recognized under the "large enterprise category of the 2021 Certified Health & Productivity Management Outstanding Organizations Recognition Program (White 500)" as an enterprise that is thinking about employee health management from a management perspective and actively engaging in health management. We were recognized in March 2021 as a White 500 enterprise for the third consecutive year.
[Note]

*

Health & Productivity Management Outstanding Organizations are enterprises that practice excellent health management in collaboration with health insurers. White 500 is a system which is jointly awarded by the Ministry of Economy, Trade and Industry (METI) and Nippon Kenko Kaigi. This award aims to create environments that can be evaluated by society by making outstanding enterprises that are engaged in health management more "visible."
Priority measures, targets, and results
We have announced the "prevention of severe disease and deterioration" as well as the "reduction of smoking rates" as priority measures for health management and recognize the "ratio of employees with abnormal findings in regular health examinations" and the "smoking rate" as issues based on the results of regular health examinations. Under the results for FY 2019, the "specific health guidance completion rate" rose by 10% or more from three years ago, and the "smoking rate" decreased from the 30% range to the 20% range through the gradual incorporation of a ban on smoking during work hours.
Priority measures
Indicators
Results
Goal
FY16
FY17
FY18
FY19
FY20
Prevention of severe disease and deterioration
Regular health examination rate
99.7%
99.7%
99.9%
100%
100%
Ratio of Positive Findings in the Regular Health Examination
55.2%
56.8%
59.9%
63.2%
60.0%
Completion Rate for Specific Health Examination
26.8%
30.1%
31.6%
32.9%
40.0%
Smoking rate reduction
Ratio of Employees who smoke
31.3%
30.6%
29.9%
29.7%
29.0%
Data pertaining to employees is published in the "ESG Data Book."
Employee health maintenance and improvement
We are undertaking initiatives aimed at health management, health maintenance, and health improvement with the goal of creating an organization that is always energetic and a place where employees can be mentally and physically healthy.
Promotion of health management
Establishment of
a Wellness Center
We are working with the Wellness Center operated by SB Atwork Corp. to provide an environment in which occupational specialists in internal medicine and psychiatry, public health nurses, and counsellors are available at all times to discuss physical and mental issues.
Offering mentoring in the workplace with the peer supporter system
We are introducing a "peer supporter system" in which employees who hold occupational counseling or health and safety related qualifications may volunteer as accessible counselors within the workplace after passing a specific selection process and receiving training.
Promoting regular health examinations
In order to facilitate the early detection and treatment of diseases, we educate employees regarding the importance of regular health examinations and encourage them to receive checkups. In fiscal 2017, 99.7% of employees received a health examination.
| Results | FY18 | FY19 |
| --- | --- | --- |
| Regular health examination rate | 99.9% | 100% |
Carrying out stress checks
As part of our mental healthcare provision, we encourage all employees to take regular stress checks using the Wellness Eye system. This encourages self-care that helps prevent damage to mental wellbeing and has been useful in improving work place conditions.
Introducing online medical consultation
We are introducing an online medical consultation system in which employees can access a highly knowledgeable medical team made up primarily of specialists through their computers or smart phones in order to discuss any health or healthcare-related worries and anxieties affecting themselves or their families.
Ban on smoking during work hours
To prevent passive smoking and lower the smoking rate, we implemented a gradual ban on smoking during work hours and completely banned smoking during work hours in April 2020. Smoking areas in offices around the country were removed in September 2020 with the relocation of the headquarters.
[Note]

*

We fully approve of the Access Initiative for Quitting Tobacco by the World Health Organization (WHO) and have declared a ban on smoking.
Supporting the improvement of employee health
We are supporting efforts by our employees to maintain their health by providing them with information divided into four themes, each targeting an area in which we hope to improve health, as well as venues in which they can work on each of these themes.
Furthermore, as a measure to prevent the spread of COVID-19 infection, the seminar for the current fiscal year is being held mainly online, and an archive distribution is being provided on the Company intranet for employees who are unable to participate. During 2020, we held a total of eight online health seminars (capacity of 300 people) on topics including "improving eating habits," "encouraging exercise habits," "improving mental health care," and "women's health."
Improving eating habits

Holding seminars
Carrying out e-learning aimed at improving eating habits
Selling box lunches that have been screened and certified by Smart Meal

*

and providing healthy menu options (Festa employee cafeteria)

[Note]

*

Smart Meal is a name given to meals which are nutritionally balanced and include elements that contribute to health. It is run by the "Healthy Meal and Dietary Environment" consortium as part of a promotional project aiming to create healthy dietary environments.

Encouraging exercise habits

Holding "Morning Yoga" classes
Hosting experience-based health seminars
Holding walking events
Holding stretching classes taught by a physiotherapist
Encouraging employee club activities

Reducing the ratio of smokers

Sending out "Non-Smokers' Column" e-mail newsletters
Holding events for checking lung age
Nicotine patch, gum, and outpatient cost subsidies

[Note]

*

Implementation during FY2019: approximately 200 people

Consultation with a public health nurse to quit smoking

Improving mental healthcare

Hosting of lectures on "sleep debt" to improve sleep deprivation
Conducting e-learning on self-care and team-care

Other

Partial subsidy of rubella vaccination costs
Hosting seminars and distributing columns about health issues that are specific to women
Conducting health management e-learning for the purpose of improving health literacy
Initiatives to improve the work environment
As part of efforts to promote working style transformation, we have established the work slogan "Smart & Fun!" with the aim of getting workers working smartly while having fun. This ties into our initiatives to maintain and enhance employee health and we are improving the ratio of paid leave taken by employees.
Establishing days on which employees are encouraged to take annual paid leave
To promote styles of working which balance work and rest, we are designating days on which employees are encouraged to take annual paid leave such as Premium Fridays, weekdays which are wedged in between weekends and holidays, and weekdays during the Golden Week holidays in May to create an environment which makes it easier for employees to take paid leave.
| Results | FY18 | FY19 |
| --- | --- | --- |
| Ratio of Annual Paid Leave taken | 76.5% | 72.2% |
Introducing a work-interval system
To ensure that employees have enough time for their daily lives and sleep, we are introducing a "work-interval system" which establishes a set rest period from the time that employees finish work until the next time that they start work. All employees are required to take 10 or more consecutive hours of rest from when they finish work until they start working again.
Preventing workplace harassment
The SoftBank provides awareness training through topic-based seminars and e-learning for all workers with the goal of ensuring a healthy and safe workplace free of all forms of harassment. Should a harassment incident occur, a primary contact point has been established so appropriate measures can be taken as quickly as possible. As part of that response, a counselor will first listen to what happened, and then discuss next steps with the employee. All consultations are handled with complete confidentiality.
"Development of a resilient management foundation" materiality for the achievement of SDGs
SoftBank has established six materiality areas (priority issues) aimed at the achievement of SDGs under the concept of creating "a world where all things, information, and minds are connected." As part of our efforts to "develop a resilient management foundation," we are promoting "improvements in productivity through advanced work environments" to drive workstyle reforms through technology utilization and promote health management.